Wealth Management
"The person who doesn't know where his next dollar is coming from usually doesn't know where his last dollar went." – Unknown
In its simplest form, it is about how wealth is preserved, managed and transferred. We work closely with our clients in developing wealth management strategies in the current regulatory requirements, commercial environments and tax obligations. We provide advice on estate and trust structuring, business succession, will and probate and setting up of charity.
1. Trust
"富不过三代"
The Chinese saying "Wealth does not pass three generations" is apposite. To paraphrase, a father buys, the son builds and the grandchild begs. Wealth can be dissipated in a moment if not managed carefully. This is where a Trust is helpful in preserving the wealth for future generations. We set up Trust for our clients and work closely with professional Trust companies in helping our clients preserve and transfer their wealth for generations to come. A Trust is very helpful in providing for children with special needs.
2. Lasting Power of Attorney
"Dementia: Is it more painful to forget, or to be forgotten?" ― Joyce Rachelle
You may forget but you are not forgotten by your caregivers. It is imperative to prepare a LPA to empower your caregivers to be given the authority to deal with your personal welfare and your assets when a person is no longer in control of his mental capacity. The LPA is a legal document which allows a person who is at least 21 years of age ('donor'), to voluntarily appoint one or more persons ('donee(s)') to make decisions and act on his behalf, should he lose mental capacity one day. If you lose mental capacity without an LPA in place, it may create stress and difficulties faced by loved ones who need to apply for a Deputyship order from the Court.
3. Will Writing
"A will can save one's family from being put into a quagmire pit of legal conundrum,
in case of death (which may even be untimely)." ― Henrietta Newton Martin
The best inheritance a person may bequeath to his loved ones is harmony. This is achieved by writing a Will. A Will enables you to state clearly how you want your assets to be given away upon your death. It sets out your wishes and intentions. If you passed on without a Will in Singapore, your assets will be distributed as provided by current law. It is not ideal since your wishes and intentions are not taken into consideration. Our firm has experience in preparing more than 7,000 Wills for our clients and we are very focused in this particular area of practice. You should prepare your Will while you are still healthy and in control of your mental faculties.
our
Services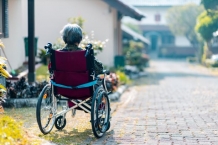 Lasting Power of Attorney
A Lasting Power of Attorney is the best way for you to prepare and help your caregivers to manage your affairs and assets in the event that you are no longer in control of your cognitive functions. Sign up online now!